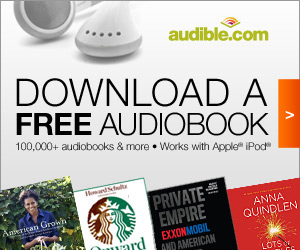 Is there a New Book you've been dying to read ~ 50 Shades of Grey, Hunger Games, Twilight, Gone Girl, Kiss the Deal, 11th Hour + TONS MORE!! I've been dying to check out Dan Brown's New Book INFERNO and I just saw that it's Available! Right now Audible has a FREE 30 day trial and you can get 1 FREE book! There are 10,000 more to choose from, you are sure to find a book on this huge list!  HURRY there are only 100 Available!!! 
Here's how to score your Free Book:
* Sign up for Audible HERE 
* Then choose your book and download it onto your ipod, iphone, android, or mp3 player!
* Now you can listen to the book you been wanting to hear!
I like to listen to audiobooks when I'm trying to go to sleep or while I'm driving! And this would be PERFECT for laying out at Beach or by the Pool! 
Here are some popular titles currently available:
The Great Gatsby
Dan Brown's New Book INFERNO
50 Shades of Grey
11th Hour
Jumpstart To Skinny: The Simple 3 Week Plan for Supercharged Weight Loss by Bob Harper
12th of Never by James Patterson
The Fast Metabolism Diet: Eat More Food and Lose More Weight
The Hit by David Baldacci
Catching Fire
Catching Fire: A Hunger Games Book
Plan D: How to Lose Weight and Beat Diabetes (Even If You Don't Have It) by Sherri Shepherd
The Hobbit
Catching Fire
Killing Kennedy: The End of Camelot
Please note: Trial Offers are limited to one per household. Trial Offers may be cancelled only during the Trial Period. If not cancelled, the Trial Offer will be converted to the applicable membership plan for the trial, so if you don't want to continue, make sure to cancel within 30 days, see how below:
How to cancel (if you want to): 
Step 1: Log onto your account.
Step 2: In the upper right hand corner, select Account Details.
You may be prompted to verify your password in order to access the My Account Page.
Step 3: Once you have entered the My Account page, locate the link Make Changes To My Membership link. (This link is located directly beneath your cart in the upper right). Choose Cancel.